Melania Trump's recent release of an NFT, which pays tribute to the Apollo 11 moon landing, has stirred controversy as it features an image sourced from NASA's archives.
Unfortunately, this violates NASA's rules regarding image usage and the creation of NFTs, as clearly stated in their merchandising regulations.
Despite these regulations, USA Memorabilia, a prominent NFT platform highlighting American memorabilia, is promoting their new "Man on the Moon" NFT, celebrating the successful lunar landing of the Apollo 11 mission.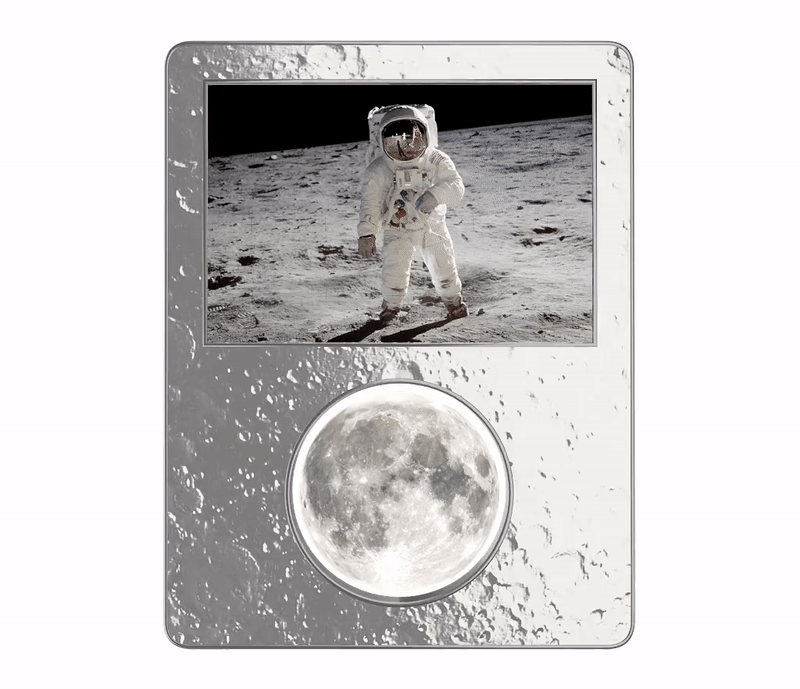 This NFT, priced at $75, showcases the iconic photo of Buzz Aldrin walking on the Moon, with Neil Armstrong's reflection visible in Aldrin's visor. In 2021, artist Michael Ranger cleverly revealed Aldrin's perspective by digitally unveiling his visor in the image.
When comparing USA Memorabilia's NFT to Ranger's creative and reverential approach, it lacks the same level of inspiration. The NFT presents the iconic shot of Aldrin within a digital silver frame, resembling an imitation iPod from the front, with a Moon-inspired textured surface.
The bottom of the NFT features a three-dimensional spherical model of the Moon itself. On the reverse side, one can find the famous text: "One small step for man, one giant leap for mankind."
Although Neil Armstrong, the person behind this iconic quote, stated that he was misquoted, many media outlets have perpetuated the incorrect version due to its greater impact.
The "Man on the Moon" NFT is considered a "limited-edition collectible" with only 500 editions available. However, 21 copies have already been sold within the first few days of its release.
While USA Memorabilia may appear to celebrate a broad range of United States history without political affiliations, it is reported as Melania Trump's NFT marketplace.
Their additional NFT collections include vague celebrations of pivotal years like 1776, collectibles honoring the U.S. Armed Forces, and low-quality gallery-style NFTs showcasing National Parks.
Unfortunately, the purchase of the latter does not guarantee one's favorite park, as it operates like a "gumball" machine where customers put in $50 and receive a randomly determined NFT.
The Valor Collection, created in collaboration with a veteran, does not mention any proceeds supporting veterans, which is not surprising given the platform's track record.
Another NFT collection on USA Memorabilia is "The POTUS Trump Collection," featuring "gold" and "platinum" variants featuring portraits of former President Trump and former First Lady Melania Trump.
Additionally, customers have the opportunity to purchase Christmas ornament NFTs, which come with an accompanying physical ornament. This allows individuals to enjoy patriotic decor on their Christmas tree and relish the 3D-rendered version throughout the year.
NFTs currently face a level of uncertainty. Canon recently announced its entry into the NFT market, while Meta (formerly known as Facebook) discontinued its NFTs on their platforms, questioning the viability and legitimacy of the medium.
Despite this ambiguity, individuals who passionately admire NASA, but perhaps do not respect the agency's request to refrain from using its content for NFTs, may choose to participate in Melania Trump's NFT collection, priced at a modest $75.
Once the transaction is completed, buyers will have the ability to store the iconic Aldrin image in a digital wallet or download it freely from the internet.
Thankfully, there are legitimate ways to own unique pieces of NASA's historical artifacts, such as rare original photos and tapes from the monumental moon landing. Explore these options to truly embrace NASA's legacy.