Begin by adding cameras using the search box highlighted in green.

Once you have added atleast one camera, you will be able to change the zoom level and select your preferred view.

If you choose "top" view in the options selector, it will allow you to attach lenses to the cameras.

If you don't know where to start, use the button below to start with a random set of cameras


Use the button below to download a screenshot of the entire comparison. Move the zoom slider to 100% to get the highest resolution image.
Camera Size Comparison Tool
Welcome to the all new Camera Size Comparison Tool designed to let you compare camera sizes side by side. We have a database of over 3000 cameras/lenses and you can use this app to see how different lenses look on different cameras and compare their sizes.
Below is a video of the whole process in action: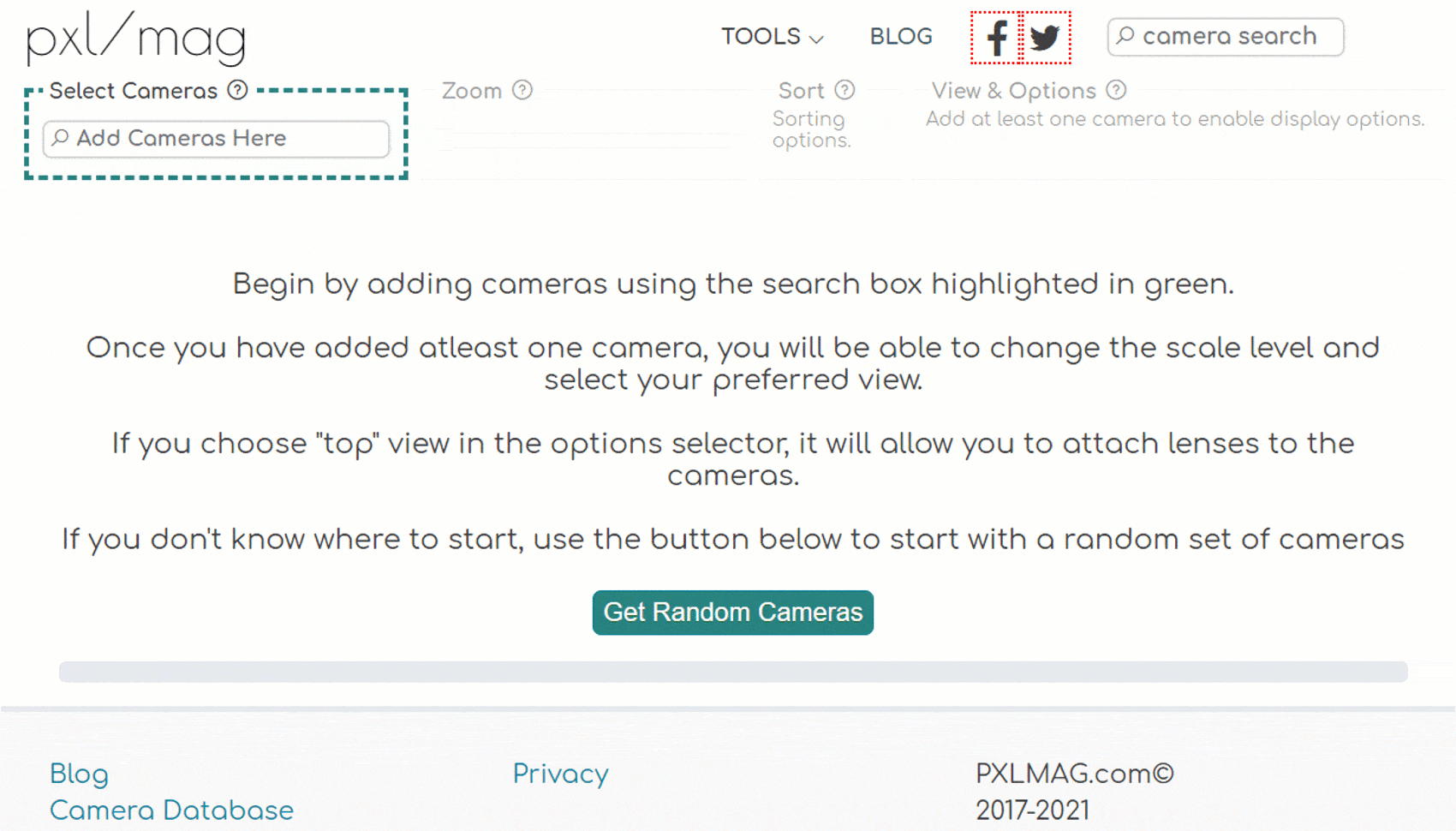 Start by searching for your favourite camera using the search box located at the TOP LEFT of this page. If you are not sure what camera you are interested in, use our Advance Camera Finder to find a camera based on specifications. You can also click the "Get Random Cameras" button to get started. If you want to compare two cameras and their features, go to compare cameras and select the cameras you want to compare.
Once you have your cameras selected, you can change to a front, back or top view by using the options tab. In the top view, if a camera has interchangeable lenses, you will see a icon above the camera. Click on the icon to open a search box where you can see and search for all lenses that will fit that camera.

Here is the guide to all the different icons in the compare tool:
Sort the cameras by Width.
Sort the cameras by Height.
Sort the cameras by Depth including any attached lenses.
Sort the cameras by Weight.
Change to Front View.
Change to Back View.
+ Change to Top View including any attached lens.
Insert a Credit Card for scale.
Insert a Soda Can for scale.
Delete All Cameras.
Add a lens to the camera (Only for Interchangeable lens cameras).
Delete Camera.
Clone Camera Setup.
Move Camera to the left.
Move Camera to the right.
Report an Error.
Compare Tool Update Log
10 more fujifilm lenses added.
Adjusment for Canon third party lenses.
Clone Camera setup option added.
Remove Lens option fixed.
Attach lens icon added above cameras.
Updated horizontal scroll for extra cameras.
Fixed hover tooltips.
Random Cameras button added.
Camera and lens search improved.
Automatically change camera view on sort.
Complete list of cameras below.