We recently had a preview of SmallRig's new VB99 Pro mini V Mount battery at IBC 2023. Now, the battery has been released and we have more details about it.
SmallRig always listens to its users, and the new VB99 Pro mini battery has some great upgrades compared to its predecessor. The best part is that the price remains the same as the current model, at $279.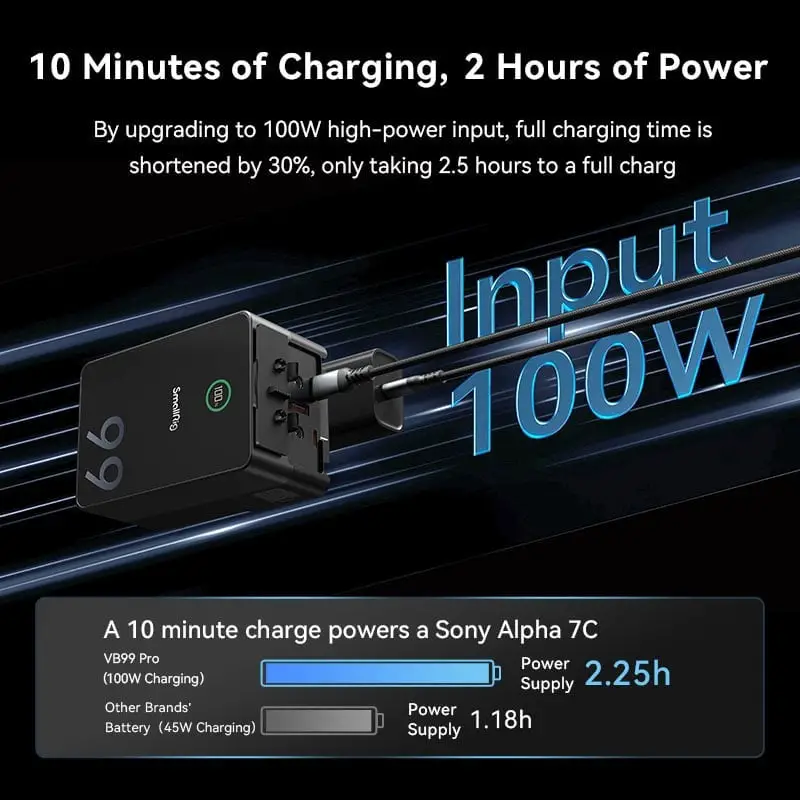 There are two major improvements in this new version. Firstly, it has faster charging capabilities, allowing you to charge the battery at a rate of 100 Watts in just one hour. This means you'll need fewer batteries on set. Secondly, it comes with more output ports, which helps in maintaining a cleaner rig with fewer cables and splitters.
If you're an experienced videographer, you're probably familiar with V-Mount batteries. They are known for their efficiency, durability, and high performance. For example, the VB99 Pro mini can output 14Amp (at 14V) using its DTAP connection, which provides almost 200 watts of power. You can't get this kind of power from a regular power bank.
V-Mount batteries, including the VB99 Pro, are more sturdy and reliable compared to standard power banks or NPF batteries. They may cost a bit more, but the extra money is well worth it considering their performance and durability.
SmallRig values its customers and has decided to keep the price of the new model the same: $279.00.
The SmallRig VB99 Pro mini V-mount battery is expected to start shipping in November and will be available at your regular photo stores. If you're in the US, you may check Amazon and B&H for the product.