Good news for creators on Instagram! The platform is now bringing subscriptions support to eligible creators in Australia, Brazil, Canada, France, Germany, Italy, Japan, Mexico, Spain, and the United Kingdom.
With Instagram subscriptions, creators can form stronger connections with their most engaged followers and increase their monthly income by providing exclusive content and benefits. This feature allows creators to lock their photos and Reels behind a paywall, making them accessible only to subscribers who pay a fee.
Subscribed users will see a purple banner and white crown on exclusive content to indicate that it can only be viewed by subscribers. This move by Instagram appears to be a way for Meta to compete with platforms like Patreon.
In a message on his broadcast channel, Mark Zuckerberg announces the expansion of subscriptions to more countries, with global roll-out planned in the coming months.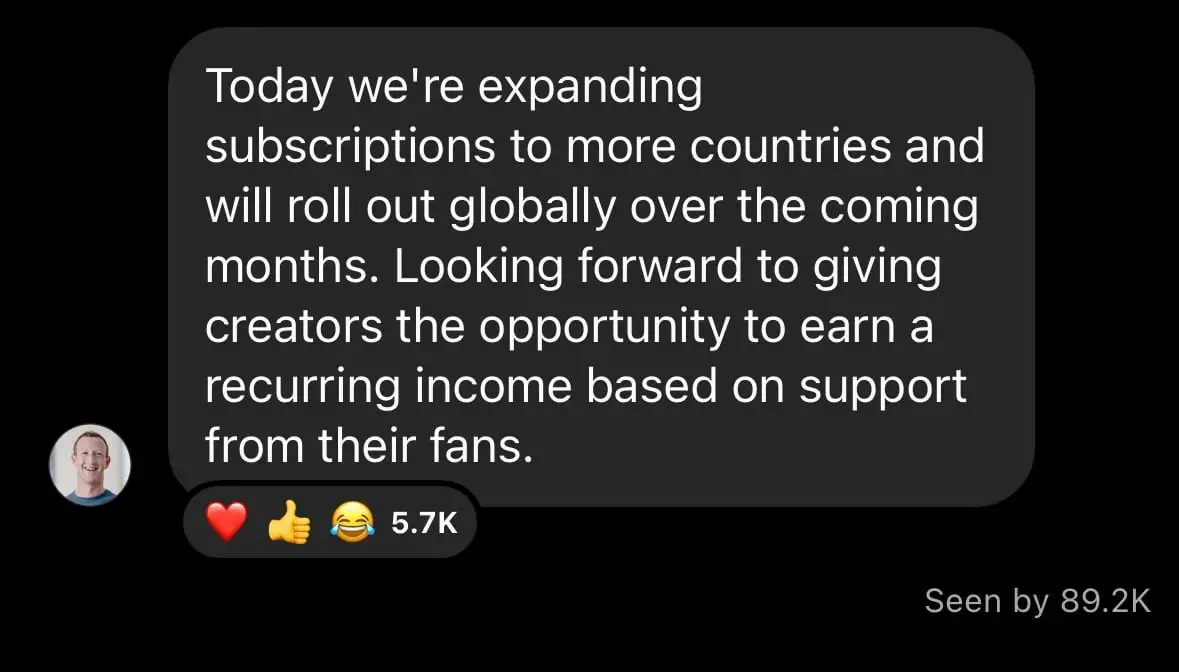 This development provides creators worldwide the opportunity to earn a recurring income through support from their fans. Subscriptions enable creators to create reels, posts, and stories exclusively for subscribers. They can share special content, use interactive story stickers, or go live with paying subscribers only.
Additionally, creators with access to the feature have the option to create subscriber highlights. These exclusive stories are saved to a highlight visible solely to subscribers.
Subscribers also receive special access to broadcast or social channels. To prioritize interactions, creators will see a subscriber badge next to subscriber comments and messages.
Finally, Instagram emphasizes their commitment to providing creators with a suite of tools to help them earn a living on the platform. As part of this effort, Instagram introduced Instagram subscriptions last year in the United States.
This feature allows creators to deepen connections with their most engaged followers and generate recurring monthly income.
With subscriptions launching in more countries and a global release planned, creators can further strengthen their engagement with their fans and monetize their content effectively on Instagram.